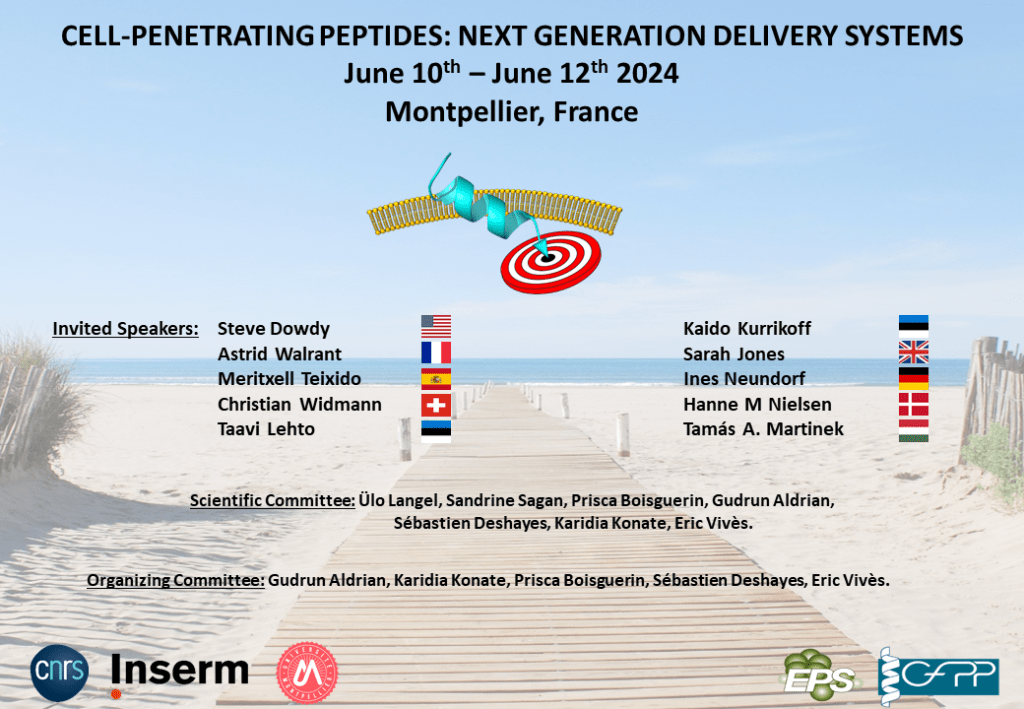 Cell-Penetrating Peptides: Next generation delivery systems
We are pleased to invite you to participate to CPP2024 symposium, which is co-organized with the French Peptides and Proteins Group (GFPP).
It will be held in Montpellier (France), from Monday 10th to Wednesday 12th of June 2024.
Time to the meeting
The meeting will take place in the lecture hall of the Botanical Institute of Montpellier University, located close to the oldest European Medicine University in the center of Montpellier.
This 3-days international symposium will focus on:
Design and synthesis of cell-penetrating peptides (CPPs), peptide-based nanoparticles, and other peptide-based delivery systems
Biophysical, biochemical, and/or cell biology approaches to study their interaction with model and/or biological membranes
In vivo studies and therapeutic/clinical applications of peptide-based delivery systems
We hope you will join this event and you are cordially invited to contribute an oral (10 min) or a poster presentation. The official language of the meeting will be English.
Looking forward to seeing you in Montpellier!
Organizing committee
Prisca Boisguerin, Sébastien Deshayes, Karidia Konate, Eric Vivès, Gudrun Aldrian
Scientific committee
Prof. Sandrine Sagan, Prof. Ülo Langel, Prisca Boisguerin, Sébastien Deshayes, Karidia Konate, Eric Vivès, Gudrun Aldrian